Example (See Below For Details of Creating Your Own Unique Piece!)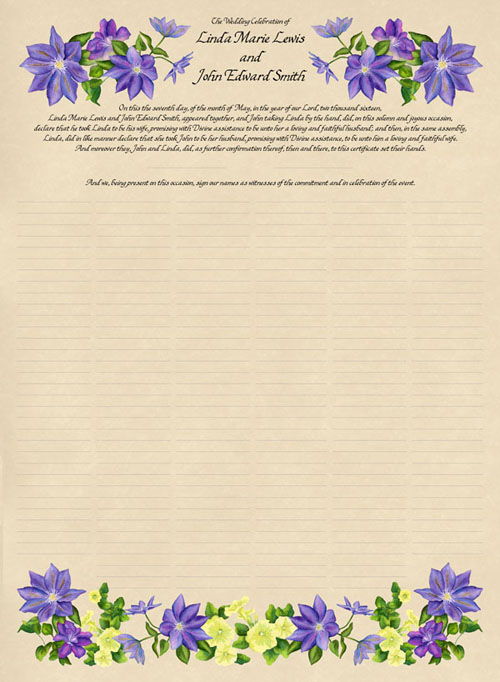 Click to See Up Close
All pricing to be custom quoted based on size and printing method (or original hand work) needed; and floral, calligraphy and signature line editing required. If interested please

Contact Me

to discuss your custom piece and receive an individualized price quotation. Please include how many guest signature lines you need and what type of flowers (or other images) you want me to arrange on your piece from the selections shown below, and an idea of how much or the exact text as you want it to appear. (If this won't fit under comments on the form you can email me later when I respond).
Below are floral images that I painted which can be used in your design. You pick the flowers and I will cut and paste and arrange them together to fit your piece. I can also create new original artwork for your piece in keeping with your theme or I can paint your venue. Please see images of previous pieces shown below which were done by hand. Also, Click Here to see additional scanned images which can be selected for your piece.
| | | |
| --- | --- | --- |
| 75. Yellow Flowers #1 | 76. Yellow Flowers #2 | 77. Yellow Petunias |
| | | |
| --- | --- | --- |
| 78. Yellow Hollyhocks | 79. Yellow Tulips | 80. Dogwoods |
| | | |
| --- | --- | --- |
| 81. Yucca flower | 82. Yellow Columbine | 83. White Lily |
| | |
| --- | --- |
| 84. Varigated Roses | 85. Daffodils |
| | | |
| --- | --- | --- |
| 86. Purple flowers | 87. Oak Leaf Hydrangea | 88. Purple Balloon Flowers |
| | |
| --- | --- |
| 89. Pink Roses #1 | 90. Pink Roses #2 |
| | | |
| --- | --- | --- |
| 91. Multi Colored Tulips | 92. Orange and Yellow Tulips | 93. Pink Tulips |
| | | |
| --- | --- | --- |
| 94. Pink Lily | 95. Purple Phlox | 96. Lenten Rose |
| | | |
| --- | --- | --- |
| 97. Pink flowers | 98. Yellow daisy | 99. Coneflower |
| | | |
| --- | --- | --- |
| 100. Grape Hyacinth | 101. Blue flower | 102. Blue Phlox |
| | | |
| --- | --- | --- |
| 103. Clematis #1 | 104. Clematis #2 | 105. White Iris |
| | |
| --- | --- |
| 106. Poppies | 107. Red Tulips |

108. Peonies #1

109. Peonies #2

110. Peonies #3
Examples of Custom Hand-Painted Certificates
with Guest Signatures

(Left and Below) Modified Quaker Style Wedding Signature Document, Hand Calligraphy and Artwork



Click to Enlarge