Hand Calligraphy Addressing of Wedding Invitations
Serving Customers in Alabama, Delaware and Nationwide
Artist has experience with hand calligraphy work for over twenty-four years. Hand calligraphy on sets of wedding invitations ranges in price from $4.00 to $6.00 per set depending on the style selected. Below you will see samples of each style and its corresponding pricing, whether for an envelope set (inner and outer) or for single, outer envelopes only. Turn around time for hand calligraphy is at least 2-4 weeks, depending on work load. There is also a $15.00 return shipping charge if envelopes are to be shipped or mailed back to the client. Express shipping additional. There is also an additional charge for colored inks.
Extra envelopes: Please provide enough extra envelopes in case of mistakes. Between 10-15% of the quantity of your order is usually sufficient for styles 1-5. So, if you have 100 addresses, then between 10 and 15 extra outer and inner envelopes would be good. (Style 6 requires between 20-25% additional). Unless a colored ink is selected, artist always use a black, waterproof ink. (This is a plus for when "Mr. Postman" is walking in the rain!) Some types of envelopes have a higher cotton content than others and can cause the ink to feather a bit. If it is very noticeable, then artist has a clear acrylic spray which she will use to prepare the envelopes before addressing. This usually solves the problem beautifully by creating a sealed, non-porous surface. There is a .05 additional charge per envelope if she needs to spray them. Also, if inner envelopes are fully lined (not partially) there may be an additional charge of .25 per envelope if artist needs to use erasable pencil-lines when addressing. (Normally artist works on a light table to insure straight calligraphy). See More Instruction on Formatting Your List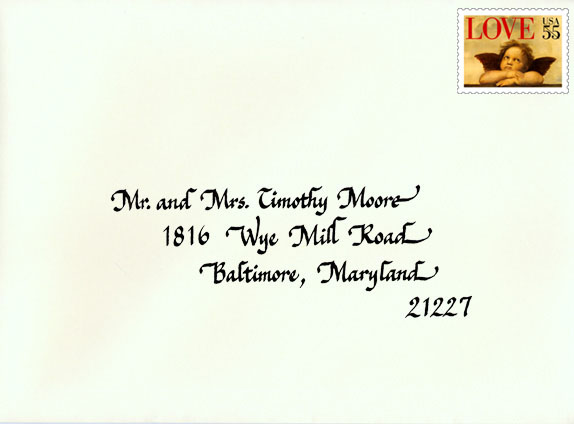 (Above) Hand Calligraphy Style Number One (Bold and Vertical)
$4.00 per set or $3.20 outer only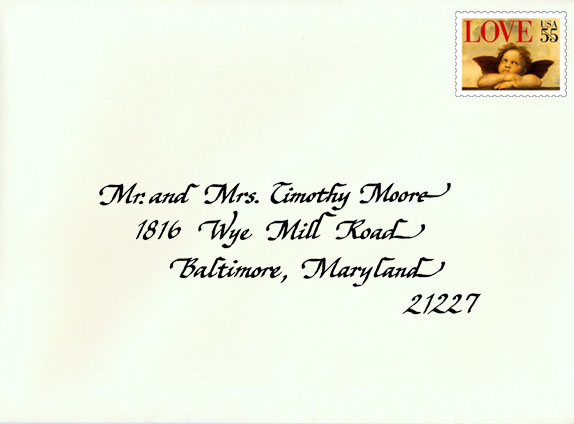 (Above) Hand Calligraphy Style Number Two (Bold and Slanted)
$4.00 per set or $3.20 outer only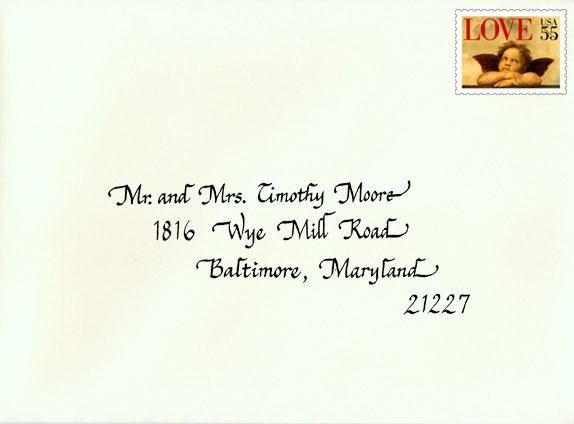 (Above) Hand Calligraphy Style Number Three (Fine and Vertical)
$4.00 per set or $3.20 outer only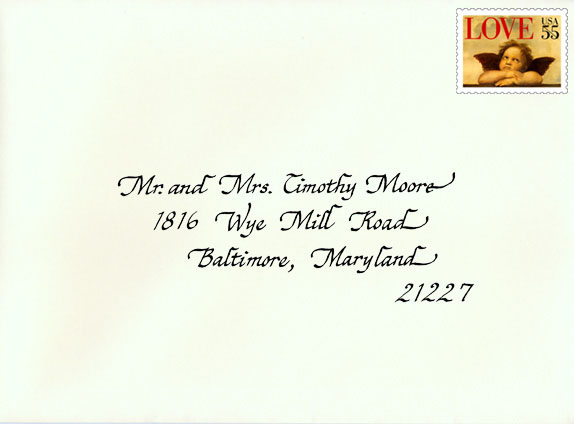 (Above) Hand Calligraphy Style Number Four (Fine and Slanted)
$4.00 per set or $3.20 outer only
(Above) Hand Calligraphy Style Number Five (Bold and Flourished)
$5.00 per set or $4.00 outer only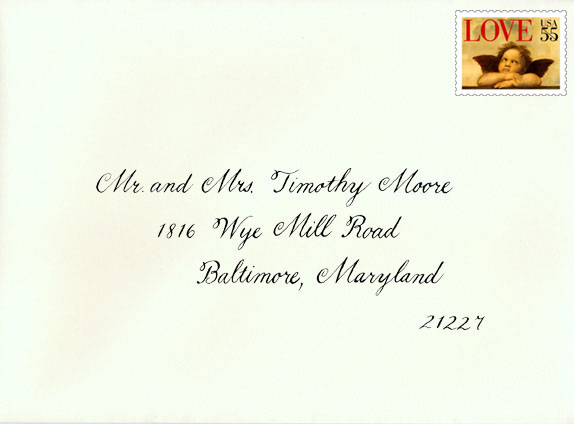 (Above) Hand Calligraphy Style Number Six (Copperplate Style)
$6.00 per set or $4.80 outer only
Downloadable Complete Wedding Catalogue--PDF format for easy emailing
Serving customers in:

Alabama (Decatur, Huntsville, Hartselle, Athens, Madison)
Delaware
Nationwide